7 Modern Life Habits That Are Damaging Your Brain
Everyday we find productivity hacks & horror stories bombarding our inbox and newsfeeds, but never stopped to think about the impact our busy work lives have on our brain health.
Many thanks to Thomas Oppong for this Kaizen Habits article that inspired us to visualize his work!
Acting on these 7 areas can have a huge impact on your energy, happiness, well-being and processing power now–and help to protect your cognition in the future.
Walking, cycling and stretching more (known as 'basic movement activities'), even if it's just for ten minutes at a time several times a day, will significantly improve not just your physical health but also your lower your neurological risk factors.
Setting clear boundaries with screen usage–especially if screens make up a large part of your working life–can make you not only happier, more social and a better sleeper, but it can actually make you smarter! Try to be intentional with your device use: instead of endlessly scrolling, open a screen only when you have a specific task in mind and (most importantly!) close the screen as soon as the task is complete.
Turn off your notifications! This helps you focus on one information source–whether that's news headlines, work emails, a podcast or a message group–at once to avoid bombardment and overstimulation. See how quickly single-tasking makes your mind sharper and less prone to 'brain fog'.
Most of these changes will naturally lead into better sleep, but for optimal brain health practicing proper sleep hygiene is really important. Turn lights low, put technology away, and focus on relaxing behaviours like meditation, reading and perhaps even some familial conversation for 1-2 hours before bed. This should ensure you achieve 7-8 hrs per night: essential for stimulating new connections and brain growth.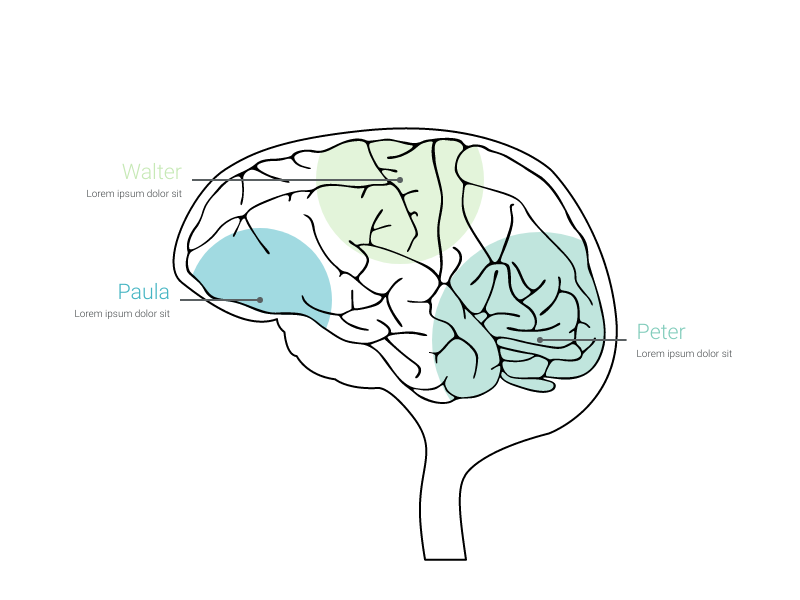 This is an example of Vizzlo's
"Brain Chart"
Highlight and label different areas of the human brain.