Vetoed UN Security Council resolutions
The United Nations Security Council (UNSC) is one of the six principal organs of the United Nations (UN), charged with ensuring international peace and security.
The permanent members of the UNSC are China, France, Russia, the United Kingdom, and the United States. The "Big Five" have the "power of veto", which enables any one of them to prevent the adoption of any "substantive" draft Council resolution; regardless of its level of international support. The data on Vetoed United Nations Security Council resolutions shows some remarkable insights, tough.
In the first phase from 1946 - 1969, the Soviet Union alone used its "power of veto" 80 times (with 86 vetos in total). While in the phase from 1970 - 1991 105 out of 116 vetos came from the permanent members of the Western World, i.e. from the United States, the United Kingdom, and France. In a third phase after the end of the Cold War, the total number of vetoes decreased, but now China started to use its "power of veto" more frequently.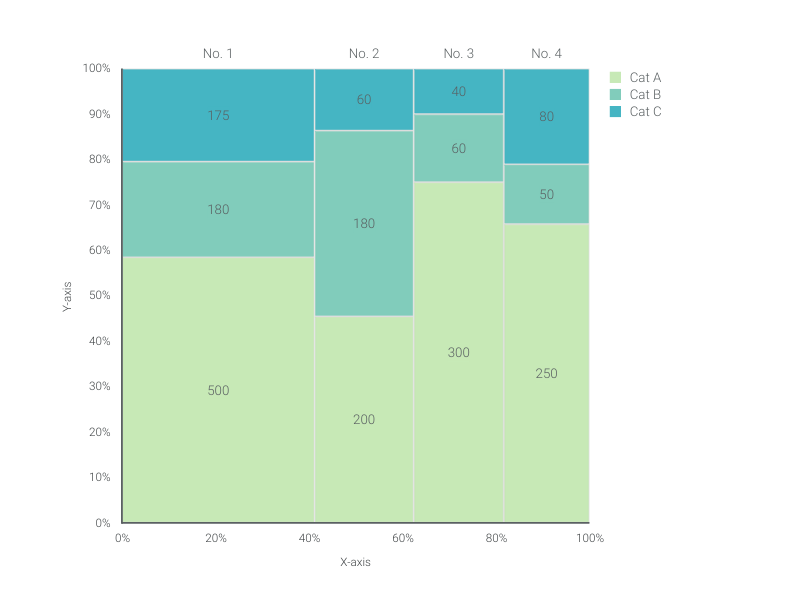 This is an example of Vizzlo's
"Marimekko chart"
Our free chart creator helps you create beautiful Marimekko charts in no time. Online, in PowerPoint, or Google Slides.