Most Innovative Countries
Germany took first place in the 2020 Bloomberg Innovation Index, breaking South Korea's six-year winning streak, while the U.S. fell one notch to No. 9.
Singapore's leap into the third-place ranking returns it to its post from two years ago.
The ranking shed light on the ability of economies to innovate, a key theme at the annual World Economic Forum in Davos, Switzerland.
In the Bloomberg Index, Germany scored three top-five rankings in value-added manufacturing, high-tech density, and patent activity. South Korea lost its crown in part due to a relative slump in productivity, falling to No. 29 from last year's No. 18 ranking in that category.
Lack of innovation around tertiary education in Germany is an "increasing worry" , especially as the global economy shifts more toward services and away from manufacturing. "The German government would be well advised to use the ongoing fiscal surplus to invest and safeguard Germany's role as innovator."
The world's second-biggest economy, China, edged higher by one spot to No. 15. It held onto a second-place ranking on patent activity, and broke into the top five for tertiary efficiency.
The news is less rosy for the top advanced economies. The U.S., which was No. 1 when the Bloomberg index debuted in 2013, fell one spot to No. 9 since last year's ranking. Japan dropped to No. 12, down three spots for the same-sized decline in last year's index.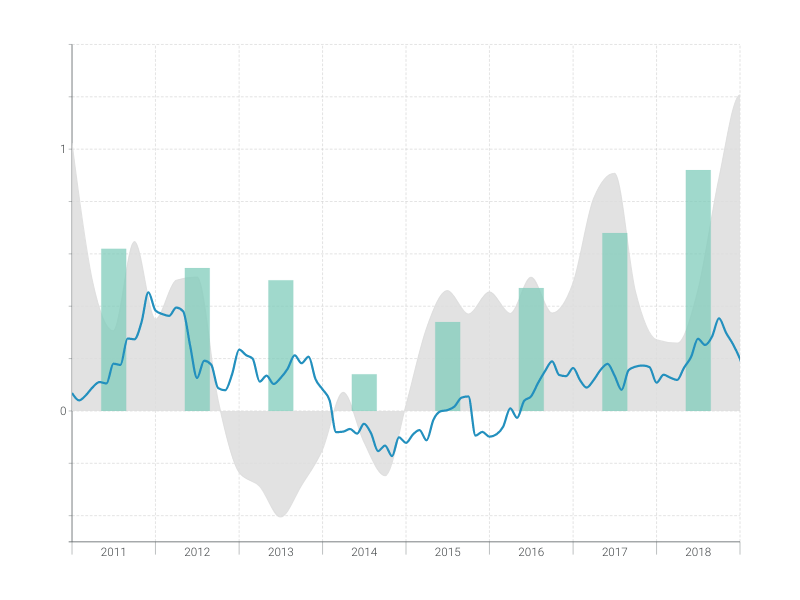 This is an example of Vizzlo's
"Time Series Graph"
Complex time series graph to visualize detailed financial data.