Portfolio: 100+ Vizzlo charts and graphics
Circular Agenda
(13)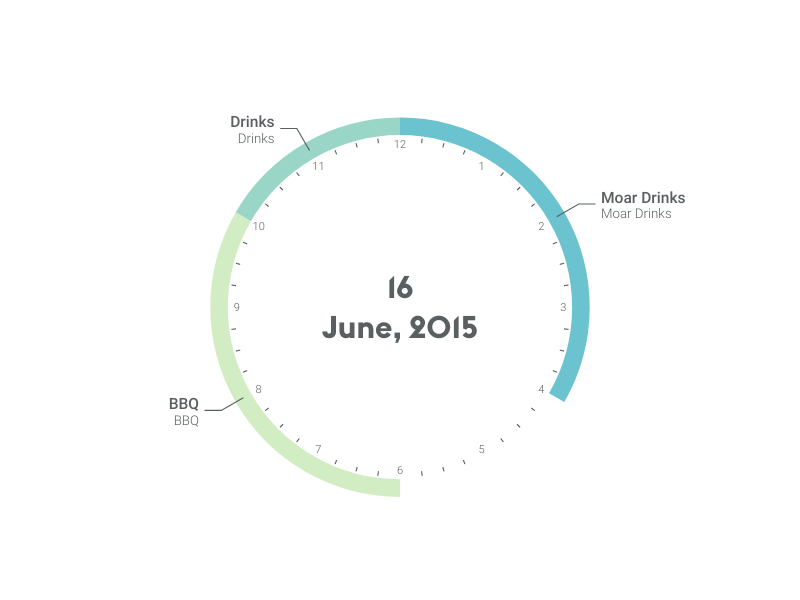 What is a circular agenda?
A circular agenda is a chart whose circumference corresponds to 100% of a given time (one year, 12 or 24 hours). Each of the slices marks a period, with begin and end dates or hours.
This chart is great to offer a simple overview of tasks and events ahead and effectively shows recurring activities and routines.
How to make a circular agenda with Vizzlo?
Vizzlo's circular agenda looks great and is very easy to create. Just follow these steps:
On the tab "APPEARANCE," select the date format and the granularity of your dial.
Click on the time slices to edit them. Drag their extremes to adjust their duration.
Click and drag the mouse over the dial to create a new period.
You can also use the active cards in the sidebar as a support to change title, description, dates, colors of your periods.
Or copy and paste your data into Vizzlo's spreadsheet (click the button "EDIT DATA IN SPREADSHEET").
Explore the settings of the "APPEARANCE" tab and customize your chart.
Circular agenda chart maker: key features
Custom date format
Custom granularity: 12h, 24h, year
Optional markers
Use Cases
Project Management
Sales & Marketing