Graphs Competitive Radar
Competitive Radar
BETA VERSION
Visualize the positioning of your competition using this radar-like chart.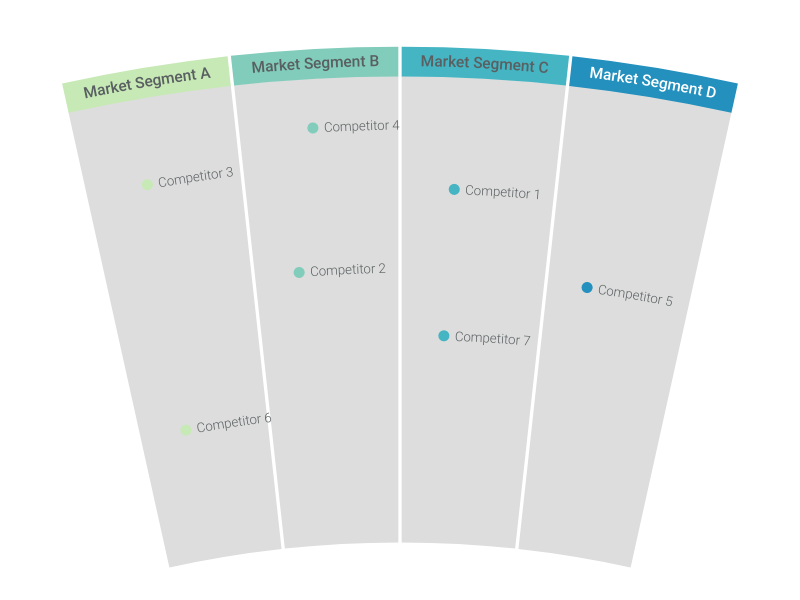 What is a competitive radar?
Assess the strengths and weakness of your competitors in different market segments, using Vizzlo's competitive radar. This visualization will help you to take/explain better strategic decisions regarding identified opportunities and threats.
How to make a competitive radar chart with Vizzlo?
To add a segment, click on "EDIT SEGMENTS" and then "ADD NEW ROW". To remove a segment, within the same Segments window click the "X" next to the segment you wish to delete.
Add the items to the chart using the cards on the sidebar.
Adjust the position of the labels inputting coordinates, or by dragging and dropping their bullets on the chart.
Pro-Tip: Remember, an item that is closer to the bottom/center of the radar indicates that is closer to you. Similarly, items that are plotted towards the top of the radar are farther away from you.
Competitive radar maker: key features
Custom colors
Add up to 10 segments
Drag and drop labels
Competitive Radar Alternatives
Enhance your productivity
Create a Competitive Radar directly in the tools you love
Create a Competitive Radar in PowerPoint with
Vizzlo's add-in
Create a Competitive Radar in Google Slides with
Vizzlo's exclusive add-on
Loved by professionals around the world
Visualizations your audience won't forget
Convey abstract concepts and data with professionally designed
charts and graphics you can easily edit and customize.