Portfolio: 100+ Vizzlo charts and graphics
Multiple Pies Chart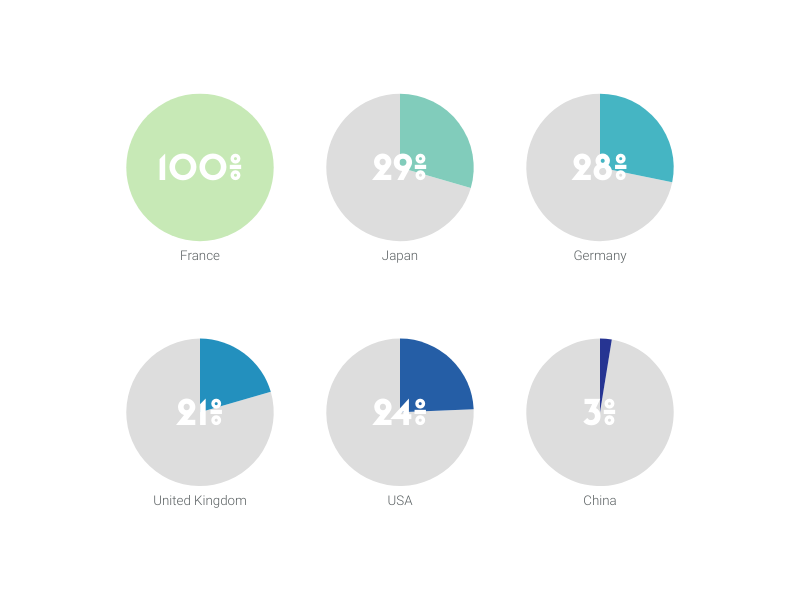 What is the multiple pies chart?
The multiple pies chart is a visualization in which multiple pies are plotted together, side by side.
While a single pie chart is used to visualize the part-to-whole relationship within one group, the multiple pies are mostly used to visualize and compare data of a category across different groups. For example, if you want to illustrate the market shares of a brand in diverse markets, the multiple pies are the right visualization choice for you.
You can also use the multiple pies chart to highlight sections/illustrate the breakdown of a traditional circle chart (making the differences more explicit). Or to present key facts/data about your topic.
How to make a multiple pies chart with Vizzlo?
Plot up to six pie charts side by side using this intuitive vizzard. Follow these easy steps:
Click on the elements to select and directly edit them.
Alternatively, use the active cards or the spreadsheet to enter your data.
Use the "x" or "+" buttons on the chart to delete or add a new pie.
Explore the options of the tab "APPEARANCE" to customize your pie charts: you can sort them by size, custom the number format, hide percentage labels, and choose to use just one color for all of them.
Multiple pies chart maker: key features
Custom colors and numbers
Optional sorting by value
Add up to six pies
Use Cases
Finance & Economics
---
Examples
---
You might also like