Portfolio: 100+ Vizzlo charts and graphics
Bar Chart
(21)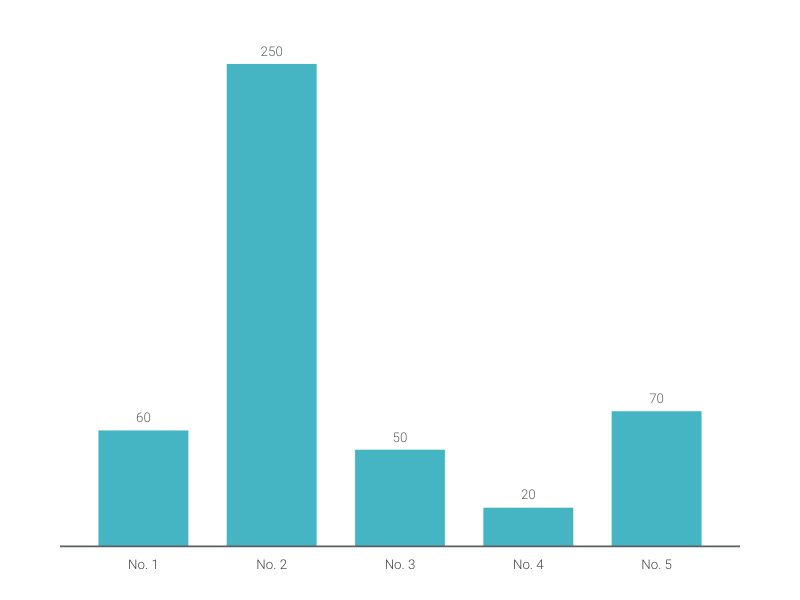 What is a bar graph (or chart)?
The bar chart (plotted horizontally) and the column chart (plotted vertically) represent data by the proportional length of their bars.
Both graphs are used for comparing various categories over one variable (e.g., sales by product) or one category over time (e.g., total sales by year). Therefore, one of their axes shows the objects of your comparison, and the other, a scale of values.
How to make a bar graph with Vizzlo?
Create a great-looking bar chart in seconds. Follow these easy steps:
Click on the columns to start editing them. For that, you can pull their sizes, edit the labels or use their respective cards in the sidebar.
Alternatively, on the tab "DATA" of the sidebar, click on the button "EDIT DATA IN SPREADSHEET," and import or paste your data from your original spreadsheet (e.g., import Excel files or CSV files).
Explore the customization options of the tab "APPEARANCE" to choose your display preferences and refine the look of the chart.
Pro tip: Before importing or pasting your data into Vizzlo's spreadsheet, make sure the number formats are matching your data source. Click on the "wheel" icons in the spreadsheet columns to see the number formatting options.
Bar graph maker: key features
Vertical and horizontal views
Custom number formats and colors
Custom bar width
Custom axes and grid
Optional labeling of individual values
Analysis lines: growth rates (CAGR), reference lines, trendlines, and benchmarks
Optional sorting by value
Adjustable min/max values for y-axis
---
Examples
---
Video tutorial
Loading ...
---
You might also like