Portfolio: 100+ Vizzlo charts and graphics
Pie Chart
(19)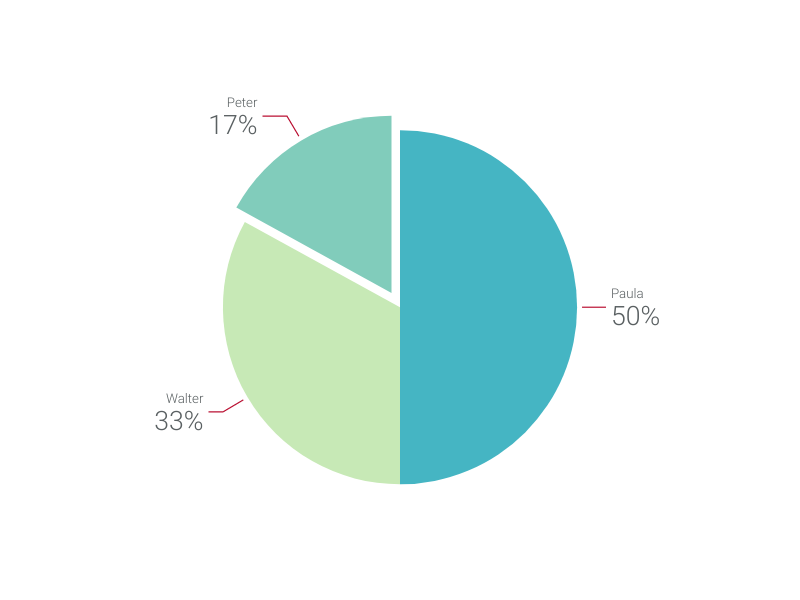 What is a pie chart?
A pie chart (or circle chart) is a circular graphic whose total area represents 100%. It is used to visualize the proportions of different parts of a whole. In a pie chart, each slice is proportional to the value it represents (this proportional relation is evident in many ways: through the slice's angle, total area, as well as its arc length).
The pie chart is widely used in newsrooms, business, and educational contexts to present the composition of demographic data, statistical numbers, market shares, etc., at a glance.
How to make a pie chart with Vizzlo?
This vizzard is an intuitive online pie chart maker. Check the examples to get inspired and follow these easy steps to make a colorful pie chart in seconds:
Click on the elements to select and edit them.
Use the "plus" buttons on the chart or the tab "DATA" to add new slices.
Alternatively, use the active cards in the sidebar or the spreadsheet to enter your data.
Select a slice and check the box "Highlighted" in the active cards to explode it (you can also right-click for this).
Explore the options of the tab "APPEARANCE" to customize and optimize the display of labels, values, and lines.
Pro tip: Sometimes, a pie chart can be deceiving. If the difference between the categories is not significant enough, the size of the slices can become difficult to read or even imperceptible. Visit our blog post to learn the do's and don'ts of pie charts, where you will find out how to make them effective and all about their best alternatives like the bar chart or the multiple pies chart.
Pie chart maker: key features
Custom colors and number formats
Custom connectors and labels
Exploded segments
Optional sorting by value
Adjustable start angle
Resources
---
Examples
---
You might also like