Portfolio: 100+ Vizzlo charts and graphics
Treemap
(17)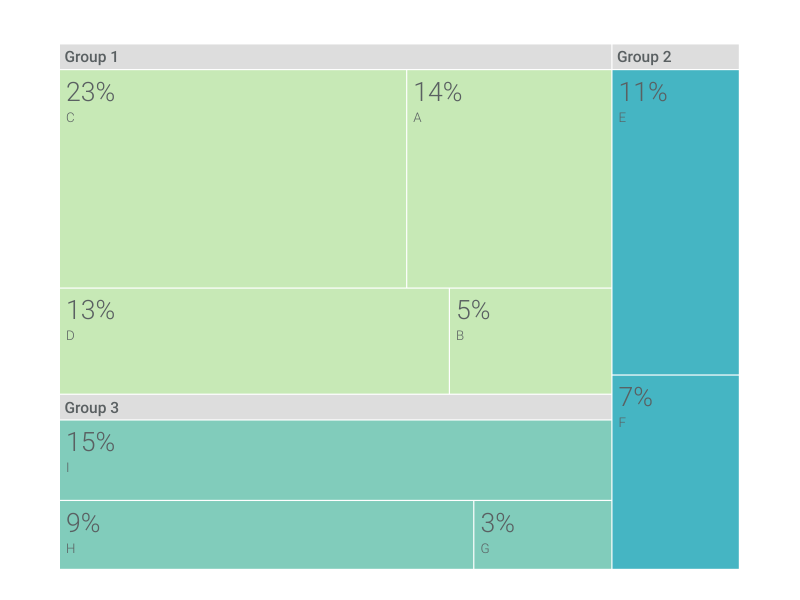 What is a treemap?
A treemap displays hierarchical data through nested rectangles that represent the composition of groups proportionally, making part-to-whole relationships evident.
In a treemap, the total rectangular area corresponds to 100%. Parent groups are defined by colors and labels, and their areas correspond to the total area of the subordinated smaller segments, i.e., the subcategories.
How to make a treemap with Vizzlo?
Create a colorful treemap to compare proportions among hierarchical data with ease:
On the tab "DATA" of the sidebar, click on the button "GROUPS" to set the name and the color for your parent groups.
Click on "EDIT CHART IN SPREADSHEET" to copy and paste your data into it. If necessary, adjust the number format (wheel icon) to match Vizzlo's spreadsheet with your source.
Click on any segment to edit it or change its color.
Play with the layout settings on the tab "APPEARANCE" to choose the most efficient design for the representation of your data and increase the readability.
Pro tip: Hide the values to let the sizes of the parts/proportions speak for themselves. Or leave this option enabled to facilitate reading.
Treemap maker: key features
Hierarchical structure
Custom number formats and colors
Adjustable layout
Different labeling options for parent groups
---
Examples
---
You might also like