Portfolio: 100+ Vizzlo charts and graphics
Bubble Chart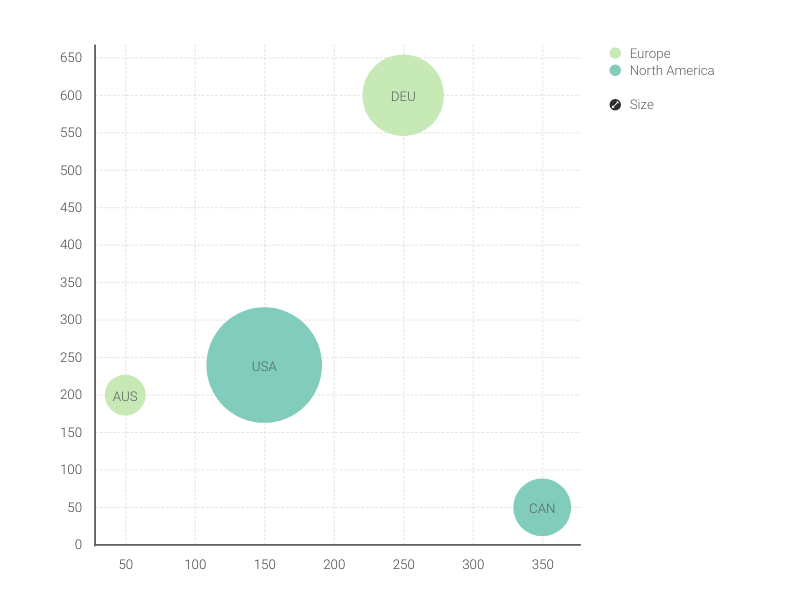 What is a bubble chart?
A bubble chart is a multidimensional chart. It's an easy choice to compare data with up to four related dimensions. While the X and Y axes work as values coordinates for two dimensions, the sizes/areas of the bubbles—defined by their radii—express the third dimension. Moreover, you can color-code the bubbles to represent categories/groups or even another data variable.
How to make a bubble chart with Vizzlo?
Make a bubble chart to present your multidimensional data effectively:
On the tab "DATA" of the sidebar, click on the button "CATEGORIES" to name your groups and define their colors.
Use the spreadsheet to enter your data with ease.
Before, pasting your data into Vizzlo's spreadsheet, make sure the number formats are matching your data source. Click on the "wheel" icons of the columns to set the number formatting.
Explore the customization options of the tab "APPEARANCE" to choose the display options for the axes, legends, and grids.
If necessary, drag and drop the bubbles and their labels to reposition them manually.
Pro tip: You can show the values relative to the radii of the bubbles. For this, check the box "Label individual values" in the drop-down menu "Value," tab "APPEARANCE," of the sidebar.
Bubble chart maker: key features
Multidimensional datasets
Custom number formats and colors
Custom axes and grid
Adjustable min/max values for X and Y-axes
Optional legend for categories/groups
Use Cases
Finance & Economics
Sales & Marketing
---
Examples
---
You might also like