Portfolio: 100+ Vizzlo charts and graphics
Waterfall Chart
(11)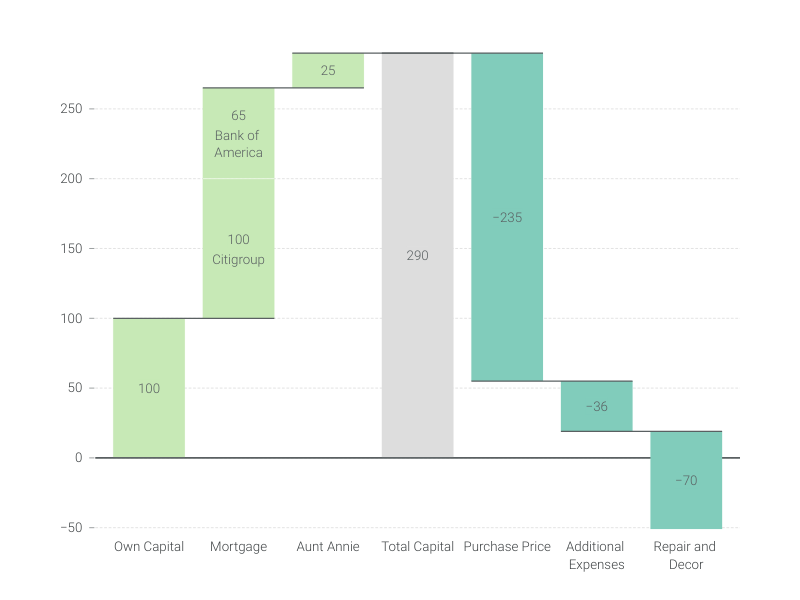 Features
Custom colors and connectors
Custom axes and grid
Custom number formats
Optional labeling of individual values
Adjustable min/max values for the y-axis
What is a waterfall chart?
The waterfall chart (or diagram) is a column chart that provides an efficient way to visualize and analyze the cumulative impact of many sequential positive or negative drivers on an initial value. In this chart, columns add up and subtract from each other, following the flow of revenues and expenses.
A typical example of a waterfall chart is the so-called "EBITDA bridge"—an instrument to estimate the value of a company or to forecast its financial performance, based on the latest available EBITDA and estimated effects of economic and political changes, as well as strategy shifts and measures (e.g., tax reliefs, price increases, mergers and acquisitions).
This chart is widely adopted in accounting, sales, as well as management, and regularly used by strategic consulting firms.
Fun fact: This chart is also referred to as "flying bricks chart" or "Mario chart" due to its floating columns—their look closely resembles they way bricks are laid out in 2D Jump 'n' Run games like the classic "Mario Bros." arcade of the early 1980s. In finance, it's also often referred to as "Bridge chart."
How to create a waterfall chart with Vizzlo?
This vizzard is the easiest and most effective alternative to the Excel waterfall chart or any ready template. Create yours with ease. Follow these easy steps:
On the tab "APPEARANCE" of the sidebar, choose the colors for positive and negative values (you can either pick the suggested colors of the selected theme, use the color picker or enter a Hex color code).
Click on any column to edit it. On its card in the sidebar, you'll be able to detail its breakdown, by listing values.
Add a subtotal column by clicking on the "Σ" handles on the right side of any selected column.
Explore the layout settings to show or hide the connectors, and choose how to display the labels.
Use Cases
Project Management
---
Examples
---
You might also like