Portfolio: 100+ Vizzlo charts and graphics
100% Stacked Bar Chart
(3)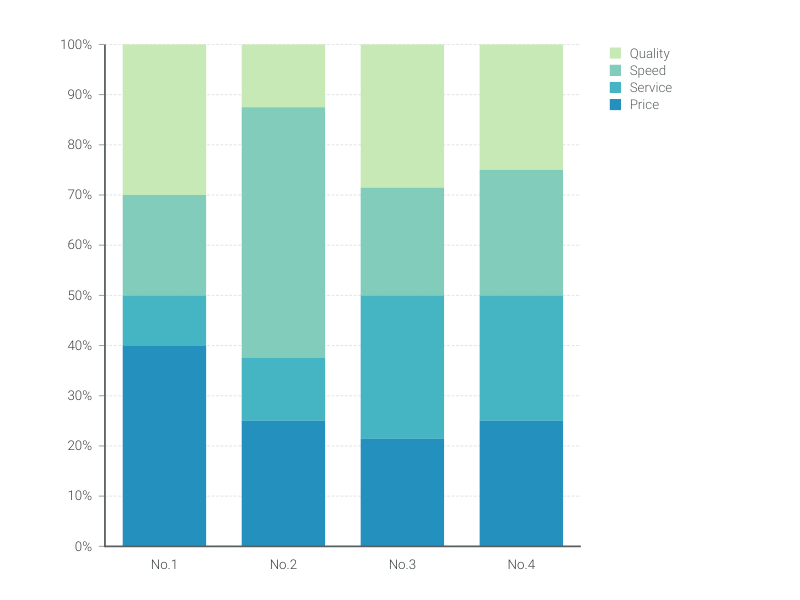 Features
Multiple series
Vertical and horizontal views
Custom number formats and colors
Custom axes and grid
Optional labeling of individual values
Adjustable min/max values for y-axis
What is a 100% stacked bar chart?
In a 100% stacked bar chart, the cumulative height of the columns/bars equals 100%, and the segments display the relative size/proportions of categories.
Unlike the conventionally stacked bar chart, the 100% stacked bars don't have different heights and don't represent any absolute values. Therefore, they are ideal for highlighting the part-to-whole relationship of multiple data series, allowing a comparison only of the composition of the various groups.
How to make a 100% stacked bar chart with Vizzlo?
Make a compelling 100% stacked bar online and export it to your presentations and reports.
On the tab "DATA" of the sidebar, click on the button "CATEGORIES" to name them.
Select a column on the chart to edit it using the active cards on the sidebar.
Optionally, use Vizzlo's spreadsheet to enter your data more efficiently. Make sure the number format matches your source (click on wheel icons), then just copy and paste the data.
Finally, try the customization options of the tab "APPEARANCE." to choose to plot the chart vertically or horizontally, disable the grid, etc.
Pro tip: If you want to emphasize the absolute difference between the groups, consider creating a conventionally stacked bar chart.
---
Examples
---
You might also like