Portfolio: 100+ Vizzlo charts and graphics
Simple Gantt
(32)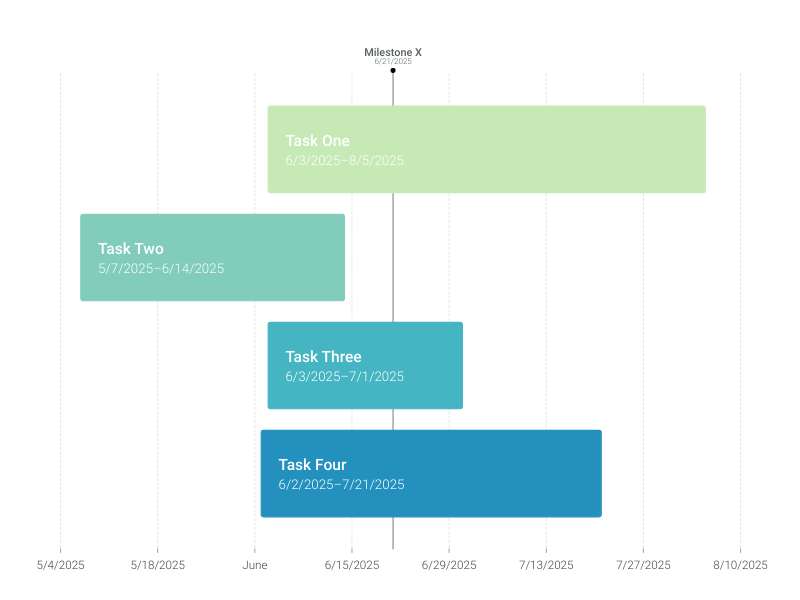 Features:
Custom colors
Custom dates and descriptions
Optional milestones
What is a simple Gantt chart?
A Gantt chart helps to visualize the schedule of the activities of a project. Its bars, positioned along a time axis, illustrate the planned duration of each task, marking its begin and end dates.
This simple Gantt chart works in the same way, but it isn't as detailed as the traditional Gantt chart. Its text labels are displayed on the bars (not in separate columns), making it compact and straightforward. Because it visually summarizes activities and milestones at a glance, it's ideal for managerial presentations.
How to make a simple Gantt chart with Vizzlo?
Vizzlo's simple Gantt chart is very easy to create and to read. Browse our examples to get inspired, visualize your activities in minutes, present, and impress!
Click on any element to select and edit it or use the cards in the sidebar as a support.
Drag and drop tasks and milestones to reposition them.
Explore the customization options on the tab "APPEARANCE" of the sidebar to choose how to display your descriptions and set the date format.
Use Cases
Project Management
Pitchdeck essentials for Startups
---
Examples
---
Video tutorial
Loading ...
---
You might also like