Portfolio: 100+ Vizzlo charts and graphics
Layered Timeline
(28)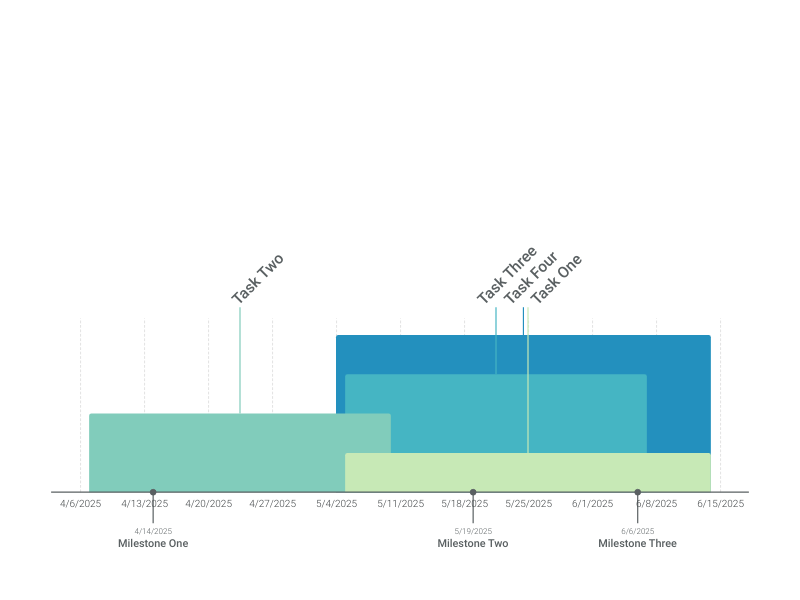 What is a layered timeline?
A layered timeline is a graphical visualization of time periods that might or not overlap. Compared to a standard timeline that shows pinpointed single events, the layered timeline accurately expresses the duration/length of whole processes or events. Like in a Gantt chart, each bar/layer represents one process/task, with a start and an end date.
Vizzlo's layered timeline is elegant and very intelligible. All elements are easy to identify: even if your tasks/processes happen at the same time, they get organized into visible overlapping layers, with different colors and sizes.
How to make a layered timeline with Vizzlo?
Use this designer-grade timeline to illustrate processes or project tasks and milestones in a matter of minutes! Follow these easy steps to create your chart online:
Click on any layer to directly edit it. You can also use the active card on the sidebar as a support to enter your data.
Pull the sides to adjust the length/duration of your processes.
Grab the dotted handles on the top of the layers to rearrange them.

Drag and drop the layers to adjust their position along the time axis.
Hover the mouse below the time axis to add your milestones.
Explore the possibilities of the "APPEARANCE" tab to refine the look of your timeline.
Layered timeline: key features
Custom date formats and colors
Optional milestones
Adjustable height
Pro tip: Quickly add a larger amount of data using the spreadsheet. Make sure to match the date formats before you import or paste your data.
Use Cases
Project Management
---
Examples
---
Video tutorial
Loading ...
---
You might also like