Portfolio: 100+ Vizzlo charts and graphics
Gantt Chart
(30)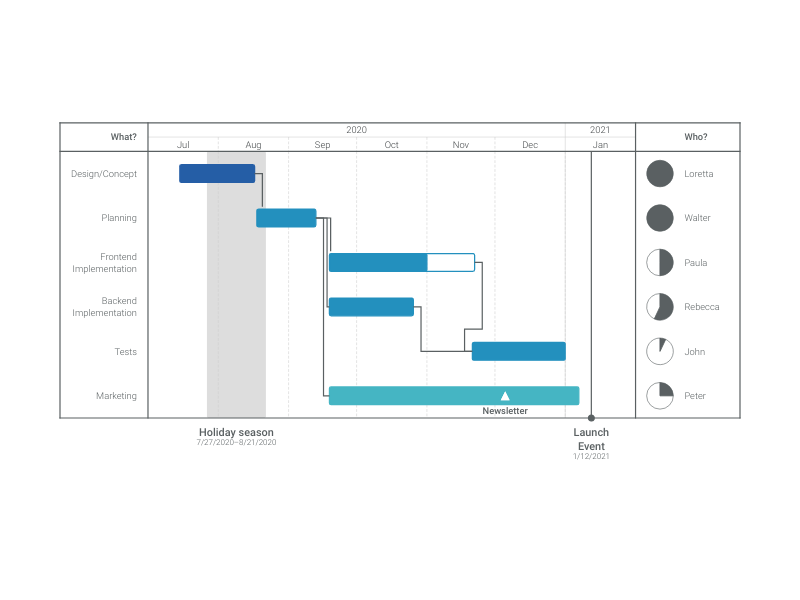 Features:
Project and task-related milestones
Task dependencies
Progress/Harvey Balls
Different axis granularities and date formats
Custom task styles and colors
Optional shadow
What is a Gantt chart?
A Gantt chart helps to visualize the work breakdown of a project and its schedule.
Vizzlo's Gantt chart was designed to assist project managers in planning and communicating their projects, assigning activities to team members and tracking the work progress. It makes easy to set milestones and deadlines, as well as dependencies.
Turn your project data into beautiful, presentation-worthy Gantt charts!
How to make a Gantt chart with Vizzlo?
This vizzard is a straightforward and easy-to-use Gantt chart maker. Browse our examples to get inspired, plan your project schedules in minutes, and collaborate with your team:
Click on any element to select and edit it.
Drag and drop activities, task segments, and milestones to reposition them.
Use the cards in the sidebar as a support to enter the start and end dates of activities (segments), create milestones, set dependencies and progress.
Explore the customization options on the tab "APPEARANCE" of the sidebar to set the granularity, hide/show grids and columns, etc.
Resources
Use Cases
Project Management
---
Examples
---
Video tutorial
Loading ...
---
You might also like