Graphs Gantt Chart
Gantt Chart
(41)
Visualize project schedules and your progress flow.
Loading ...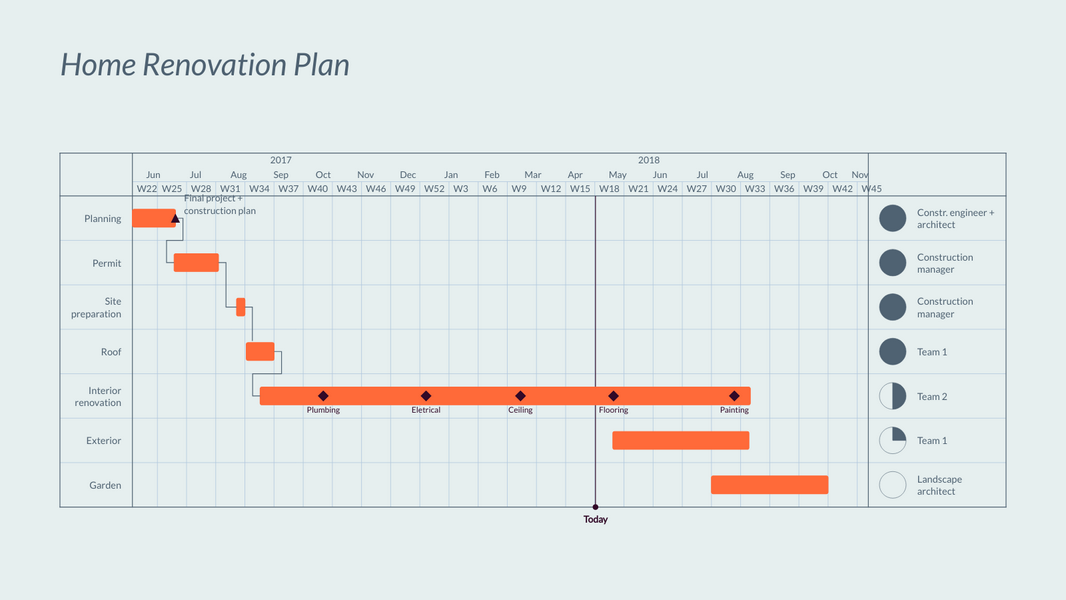 What is a Gantt chart?
A Gantt chart helps you to organize and communicate your projects. Vizzlo's Gantt chart was designed to assist project managers in planning and communicating their work. Everything that needs to be done for the success of your project is visible at a glance. Do you need to keep your stakeholders up-to-date? A Gantt chart is a great chart to envision and communicate your project flow.
The horizontal time axis of this chart covers the entire period of your project. On the vertical axis you list the tasks that together make up your project. Tasks are represented by floating bars. The sequence and duration of individual tasks are illustrated by the diagram in a clear and structured way. The position and length of each bar visualizes the start date, duration, and end date of a task. Do you need to highlight single events along the project development? Set a milestone and highlight it in different colors and shapes.
With Vizzlo's Gantt chart you can display up to three-time layers. One of the most common things to tinker with is the time grid. You can choose to display guides and labels for days, weeks, months, quarters, or years.
Show individual tasks and name the people that are assigned to each task. You always know which tasks must be done and when. Your project's success will not be jeopardized! Use Harvey Balls to show the progress of each activity, highlight weekends, and more.
As opposed to tools like Microsoft Excel or Microsoft Project with Vizzlo it is possible to display multiple tasks for each activity. To show their dependency, these tasks will be connected through a ribbon.
A brief history of the Gantt Chart
At the end of the 19th century, the Polish engineer and management researcher Karol Adamiecki aimed to enhance the visibility of production schedules. He invented a diagram to display interdependent processes, which he called 'harmonogram'. Decades later, Henry Gantt designed his version of the diagram. This became widely known in Western countries under his name. Today Adamiecki's chart is commonly referred to as Gantt chart.
How to make a Gantt chart with Vizzlo
The chart is fully interactive - simply click on any element and start editing
Drag and drop activities, task segments, and milestones to reposition them
Use your mouse to adjust the start and end date of a task
Use Harvey balls to indicate the progress of each task
Explore more customization options in the sidebar
Easily copy and paste your data into the chart's spreadsheet, or
import data from MS Excel and other spreadsheet tools (CSV, XLS and XLSX)
Browse our examples to get inspired
Gantt chart maker: key features
Add milestones of various shapes and colors
Show task dependencies
Use different axis granularities and date formats for different elements
Custom task styles and colors
Optional Progress Balls / Harvey Balls
Optional highlight of weekends
Optional shadow
Best uses for Gantt chart
Project management
Roadmap planning
Team coordination
Awareness of task dependency
Process structure
Timeline scheduling
Achieving goals and meeting deadlines
Gantt chart: pro tips
Use the same colors for tasks if you want to categorize them into groups
Resources
Gantt Chart: What's new?
Mar 31, 2020
Multiple segments in the same activity are now connected through a ribbon
Mar 13, 2020
Dependencies use a improved routing and are at the correct position when you drag segments forth and back
Feb 6, 2020
NEW You can resize the width of the columns now! Simply drag it to the left and right to make your Gantt Chart even better.
Small UX improvements: Selecting (and deleting) a segment will no longer select (and delete) the whole activity anymore.
Jan 31, 2020
NEW Milestones can now have their own color and shape. Simply click on any milestone and change their appearance in the sidebar.
Besides that we put some ❤ into this chart and improved its usability and performance a lot: dragging activities, adding milestones and segments feels much more smooth and less hectic now.
This vizzard was last updated: 2020-04-29
Enhance your productivity
Create a Gantt Chart directly in the tools you love
Create a Gantt Chart in PowerPoint with
Vizzlo's add-in
Create a Gantt Chart in Google Slides with
Vizzlo's exclusive add-on
Loved by professionals around the world
Visualizations your audience won't forget
Convey abstract concepts and data with professionally designed
charts and graphics you can easily edit and customize.