Graphs Gantt Chart
Gantt Chart
(40)
Visualize complex projects schedules and your work progress.
Loading ...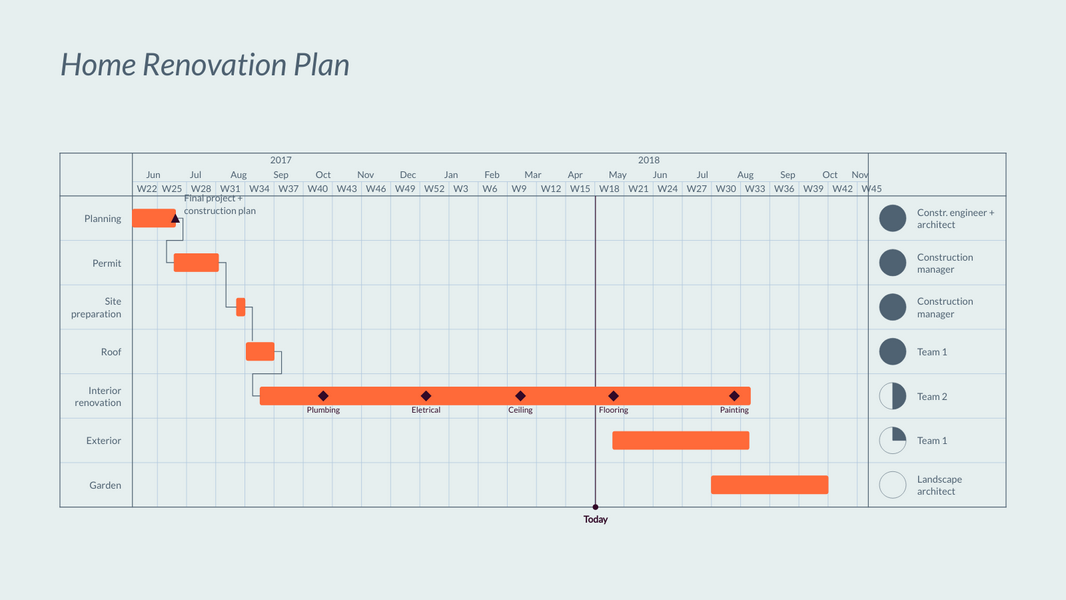 What is a Gantt chart?
A Gantt chart (also known as a harmonogram) is a floating horizontal bar chart that helps to visualize the work breakdown of a project and its schedule.It lists the individual tasks on a vertical axis, and time intervals on a horizontal time axis.
The length of the horizontal bars shows the planned time for each task.Their start and end points display from which date or time to which has been scheduled.
The Gantt chart helps project managers to estimate and later track the whole project. With it, you can easily visualize which tasks run parallel to each other and their dependencies.
Vizzlo's Gantt chart was designed to assist project managers in planning and communicating their projects, assigning activities to team members, and tracking the work progress. It makes it easy to plan and grasp task-related and project-wide milestones and deadlines, as well as critical dependencies.
Turn your project data into beautiful, presentation-worthy Gantt charts!
Best uses for Gantt chart
Project management
Roadmap planning
Team coordination
Awareness of task dependency (what needs to be finished before the next process can be started?)
Process structure
Timeline scheduling
Achieving goals and meeting deadlines
How to make a Gantt chart with Vizzlo
This Vizzard is a straightforward and easy-to-use Gantt chart maker.
Browse our examples to get inspired, plan your project schedules in minutes, and collaborate with your team.
Watch the video tutorial or follow these easy steps:
Click on any element to select and edit it
Drag and drop activities, task segments, and milestones to reposition them
Use the cards in the sidebar as support to enter the start and end dates of activities (segments), create milestones, set dependencies and progress
Easily copy and paste your data, or import it from Excel and other spreadsheet tools (CSV, XLS and XLSX)
Explore the customization options on the tab "APPEARANCE" of the sidebar to set the granularity, hide/show grids and columns, etc
Gantt chart: pro tips
Color-coding your bars can help you categorize tasks into groups and make it easier to keep an eye on your project phases
Use the Harvey balls to indicate the progress/current status of each task
Gantt chart maker: key features
Project and task-related milestones
Task dependencies
Progress/Harvey Balls
Different axis granularities and date formats
Custom task styles and colors
Optional highlight of weekends
Optional shadow
Resources
Enhance your productivity
Create a Gantt Chart directly in the tools you love
Create a Gantt Chart in PowerPoint with
Vizzlo's add-in
Create a Gantt Chart in Google Slides with
Vizzlo's exclusive add-on
Loved by professionals around the world
Visualizations your audience won't forget
Convey abstract concepts and data with professionally designed
charts and graphics you can easily edit and customize.