Portfolio: 100+ Vizzlo charts and graphics
Milestone Plan with Triangles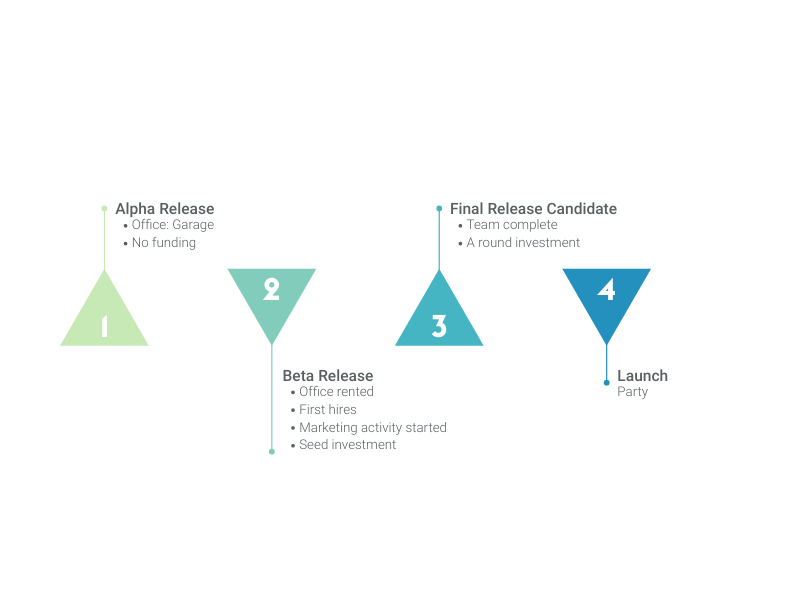 What is a milestone plan with triangles?
A milestone plan with triangles is a straightforward and efficient visualization of your project milestones. Organized horizontally, from left to right, this vizzard enables you to outline a sequence of strategic/global milestones quickly, while also shortly describing the planned achievements.
How to make a milestone plan with triangles with Vizzlo?
Communicating project goals to stakeholders and your team is essential to project success. Create a compelling visualization of your milestones plan to avoid confusion, motivate, and achieve your goals faster. Follow these easy steps:
Click on the text elements to start editing them.
Give each triangle a title and a description. You can also enter your data using the spreadsheet or the active cards in the sidebar.
Drag and drop the triangles to reorder and reposition them.
In the tab "APPEARANCE" of the sidebar, change the enumeration style of the milestones. You might choose to use letters instead of numbers, or even opt to leave the triangles "empty" for a more elegant look.
Explore the various themes and customization options to refine your chart.
Milestone plan with triangles: key features
Custom colors
Custom style of milestones (enumeration)
Use Cases
Project Management
---
Examples
---
You might also like