Portfolio: 100+ Vizzlo charts and graphics
Balanced Scorecard
(4)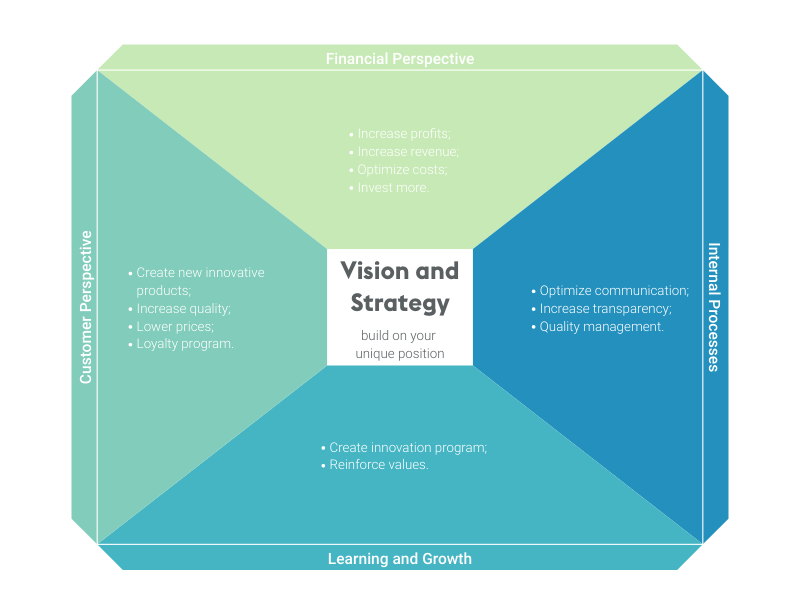 What is a balanced scorecard?
The balanced scorecard is a well-established business strategic framework/methodology to define goals, manage and measure the achievements of a given organization.
In its traditional form, the balanced scorecard is structured around four main areas of business: the "financial perspective," the "customer perspective," "internal processes," and a fourth perspective called "learning and growth."
However, since its development in the 1990's, the model has evolved to fit different needs. That's why we've made Vizzlo's balanced scorecard very easy to customize. The chart is still divided into the four sections, but, for each of them, you can give a different title. You can also define the text in the center of your scorecard.
How to make a balanced scorecard with Vizzlo?
This vizzard is an elegant balanced scorecard template. It will help you to visualize and present the strategy of your business in a concise and straightforward fashion. Create yours in seconds:
Click on the text elements to start editing them.
Drag and drop the shapes to reorder and reposition them.
In the tab "APPEARANCE" of the sidebar, explore the various themes to refine the look of your chart.
Balanced scorecard template: key features
Use Cases
Sales & Marketing
Pitchdeck essentials for Startups
---
Examples
---
You might also like